Most of the products you will find here are totally free.
But in order to keep a track on the way they are used, you need to get an activation key to make them running.
---

Download PPT Time keeper (Full install)

Powerpoint Time Keeper
If you regularly use Microsoft Powerpoint to make some presentations, you will certainly like this program.
Making a presentation is always a little bit of stress, and stress become bigger and bigger as soon as you have many questions to answer. Step by step you run out of time and you have to rush to finish your speech. At the end of the presentation, you feel bad because you know that this presentation could be better.
PPT Time is a nice application to fix that problem. This application appears as a tiny status bar, and will constantly tell you if you right on time or if you are late, without having an impact you the quality of you presentation.
If you are right on time, the status bar will be transparent, and the box will be blue... but as soon as your become late, the status bar will not be transparent anymore and the box will become red. Do do this, you just need to 'TAG' each slide of your presentation and that's it.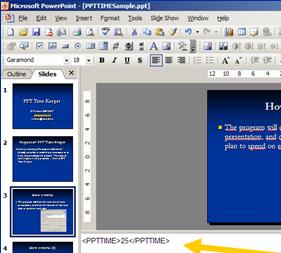 You will have a time keeper with you that will always take care about your precious time.
I hope that PPTTime will useful for you as it is for me.