Most of the products you will find here are totally free.
But in order to keep a track on the way they are used, you need to get an activation key to make them running.
---
Download the PDF file
Download the the V1 documentation PDF file
Download the the V2 documentation PDF file

Download RRAS Analyzer V1.x (Full install)

Download RRAS Analyzer V2 (exe Only)

RRAS Analyser
In the last 5 years I have been involved in remote Access projects. The last one was very special because we had to give RAS functionalities to sales forces in 15 different countries in the world via a Windows CE PDA.
They were using the internet to create a VPN connection to their companies and then synchronize data.
Today it is on production. Most of the projects were using VPN servers from CISCO or Checkpoint.
Because I am working also with Microsoft products I had to evaluate Microsoft VPN server (in fact Windows 2000 itself - RRAS service).
The big problem I detected was the user interface, and it was a major problem to sell the solution and also to support it. Imagine that this VPN server will connect 25 countries in the world and enable the user to synchronize their email. You don't really want to create one single rule that says 'everyone can access to everything', do you ?
With the RRAS service you can create profiles such as 'if you are member of AD group 'messaging sync France', you can talk to 192.1.1.5 on port TCP 25 and 110. Once this rule is created you have to create 24 others, like 'if you are member of AD group 'messaging sync <country>', you can talk to 192.1.<country>.5 on port TCP 25 and 110.
Now everything works fine, but how can you have a clear and quick overview of your current configuration. The answer is to take a long sheet of paper, a good pencil, check rule by rule, ... which will make in this case 25 x 5 screens to read.
It is not a really easy way to do it, and to be honest most of my customers did not feel comfortable with it, because it is closely linked to the company security. At that time it was impossible to sell that VPN solution.
So I designed 'RRAS analyzer'. This program will 'DUMP' in just a few seconds all the important information you need to get a clear idea about 'who has access to what' via your VPN server. This program will read the RRAS database but will also check the AD to see who is member of whatever group, who has RAS enabled.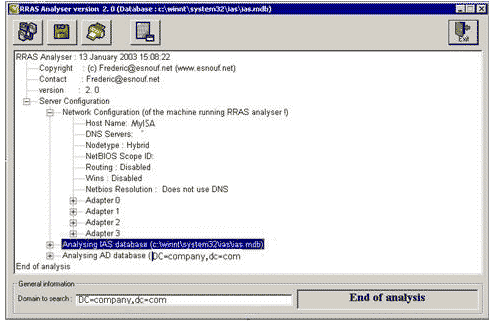 I had the opportunity to use it but also to share it with some other consultants and this tool has been very useful to sell the product but also to support it.